4-in-1 Lotion Shampoo Gel Travel Dispenser
$43.95

$43.95

Save

$23.04
---
Access up to 4 lotions, shampoos, and more instantly with the 4-in-1 Lotion Shampoo Gel Travel Dispenser! Simply rotate the top to access your travel bottle of choice. Leakproof and sturdy, this is a great addition to any travel bag.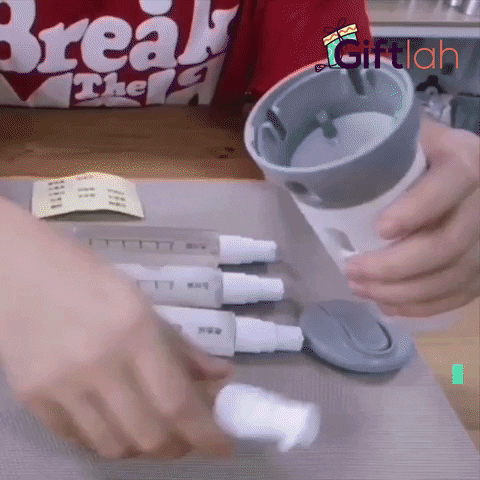 Safe From The Dreaded Luggage Spill: More than half of all travelers experience a nasty spill inside their luggage, ruining their clothes. No wonder, with your bags being thrown around like that at the airport. But rest assured, the Traveler's Little Helper was made for that from the beginning.
TSA & Airline Approved: Confidently walk past all those people still messing about at security, or having to throw away their expensive shampoo because they surpassed the limit. Each of the 4 separately sealed tubes holds 1.3oz/40ml.
Pays for Itself: Bigger bottles are a lot cheaper per ounce than those small travel sized bottles that leak. Your Traveler's Little Helper will pay for itself with all the money you'll save from buying the bigger bottles.
Nobody Really Likes Packing: That amazing trip is finally there, but now you need to spend hours packing. Save some of that precious time and space with the all-in-one Traveler's Little Helper.
Easy to use: Fill up the 40ml mini travel bottles with your choice of liquid. Label each and place them in your 4-in-1 Lotion Shampoo Gel Travel Dispenser, ensuring the nozzles are facing outwards. Secure the top shut by rotating clockwise. To find and use a bottle, simply rotate the top again and press to dispense. Rotate again to cover the nozzle.
Never Fear You Forgot to Pack That Item: We all know the feeling of having forgotten that one thing you use each day. But now you have instant access to the labelled bottles for: shampoos, conditioners, lotions, body wash, serums, hand sanitizer, and whatever else you want.
---
We Also Recommend
---