Household Food Preservation Vacuum Sealer
$79.95

$79.95

Save

$55.04
---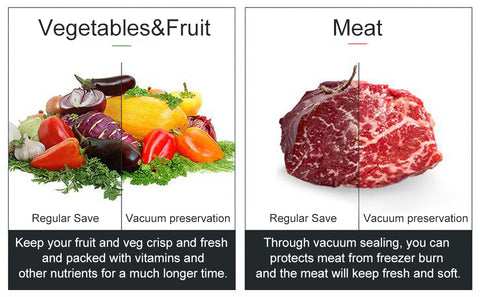 Main Features
1.Keep food fresh for longer
2.Moisture-proof and mold-proof
3.Sterilizating and disinfecting
4.Antioxygenation
5.Prevent deterioration
Vacuum and Sealed Mode Operational Step:
Step 1: Fills the food
Open the top lid by pressing the buttons on both sides. Put food into bag leaving 8-10cm for sealing.Place the bag into the vacuum slot (Note: Please ensure that the edge of the bag does not exceed the vacuum slot).
Step 2: Close the cover
Press both sides of the cover until hearing the lock-up sound.
Step 3: Vacuum food and seal
Press the work button and Press the top cover with both hands for 5 seconds to see the indicator light change from green to red to green. The seal is complete.
Specifications
Power Supply: 120V/60Hz
Size: 370mm x 75mm x50mm
Sealing Width: Max 280mm
Vacuum Degree: Max 430mmHg
Noise Value: less than 75dB
Vacuum Seal Time: 5-10 seconds
Seal Time: 5 seconds
Weight: 0.75kg(With 15pcs Vacuum Sealer Bags)
Package Include
1 x Vacuum Sealer
15 x Vacuum Bags (200X250mm)
1 x User Manual
Note:
The bag and the vacuum sealer are sold separately.
Buy a vacuum sealer containing 15 bags.
Buy bag does not contain vacuum sealing machine.
---
We Also Recommend
---